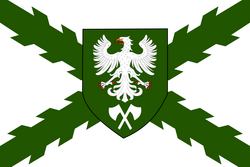 The flag of Antioquia is the main official symbol of the Empire of Antioquia, part of the image of Imperial administration, so the flag is always present in the protocols of official attendance. It has its origins in the time of independance Colombia, to 1811, apparently the flag was established by the Governing Board of Santa Fe de Antioquia based on the colors of the flag of the University of Antioquia (founded in 1803), that almost since its inception had among its emblems and a white flag was hoisted green in all its official acts. These colors were also used by the Province of Cartagena when it declared its independence from Spain in 1811.
Later the Free State of Antioquia adopted the colors and emblems of the United Provinces of New Granada, however there is nothing in the official documents of the time to support this version.
Between 1856 and 1863, a period of transition between centralism and federalism for Colombia, Antioquia emblems changed. This time the shield was the same that of the republic but with the name of the Sovereign State within it, and the flag was the same as the national shield only with the inside. The same rule was applied to other sovereign states, but because the country changed its name three times, the emblems had to be an equal number of times.
Notably, the city of Medellin, the capital, and Santa Fe de Antioquia, first capital and mother city of the department, to unify the ideals of region adopted the flag of Antioquia to which was added in the center of the shield city. Also, the colors have similar meanings to those of the Imperial Emblems.
The current flag of the Empire of Antioquia was instituted on April 10, 2012 by the Ordinance No. 16 of the Royal Assembly to celebrate the fiftieth anniversary of the independence of Antioquia.
Symbolism and design
Edit
The flag consists of an Imperial eagle in the middle to along with green, with the rest of the flag beign white.
According to the ordinance N.16 of the Government of Antioquia, the colors have their own meanings:
The white color symbolizes purity, integrity, obedience, eloquence and triumph.
The green color symbolizes the mountains of the Nation, hope, abundance, faith, service and respect.
The eagle symbolizes the Imperial Government that guides the nation.
The two hatchets symbolizes the hard-working people of Antioquia.
Although there are no regulations stating the proportion of the flag, it traditionally is established at 2:3.
Community content is available under
CC-BY-SA
unless otherwise noted.