Antioquian Legion


Emblem of the Antioquian Legion
Allegiance
Empire of Antioquia
Founded
August 12, 2012
Headquarters

Imperial District

Leadership
Commander-in-Chief
Kovrov_I
Consul of Defence, Security and War
Don Fransisco de Gomez
Supreme Leader of War
Federico Renjifo
Manpower
Military age
18-55 years old
Conscription
Exclusive to Trained Agents
Active personnel
10.500
Deployed personnel
4.560
Expenditures
Budget
210 Billon AP
Percent of GDP
2.32%
Industry
Domestic suppliers

INDUMIL

Foreign suppliers

Russian Federation

Related articles
Wars and
Campaigns

Moroccan War
The Antioquian Legion (Spanish: Legión Antioqueña, La Legión or colloquially El Nuevo Tercio), formerly Antioquia Foreign Legion, is an elite unit of the Imperial Army and Antioquia's Rapid Response Force.
Acceptance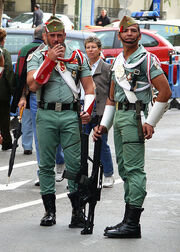 Today, acceptance to the Antioquian Legion is based on the following criteria:
Be a Antioquian citizen (although citizens from Antioquian colonies can join)
Be a citizen in good legal standing
Not be deprived of civil rights
Be at least 18 years of age and not be 29 on the day of joining boot camp.
Be able to pass psychological, physical and medical evaluations
Ranks
The military ranks of the Antioquia Legion are the same that in the rest of the Imperial Army, promotion conditions are, as well, the same as in the rest of the army. Formerly it had its own rank system for non-commissioned officers.